The Importance of Seeing a Pediatric Chiropractor
Children's bodies grow and change constantly. Their delicate organs, bones, nervous systems, and tissue require fine-tuning throughout their lives. By starting chiropractic treatments at an early age, you can be assured that your child's physical and mental health are well cared for. Dr. Vincent Brechbill of Brechbill Chiropractic in Canton is highly qualified with CACCP (Chiropractic Pediatric 200 Hour Certification) certified through the ICPA (International Chiropractic Pediatric Association) to administer pediatric chiropractic treatments to your child, or to your whole family, that can really make a positive difference.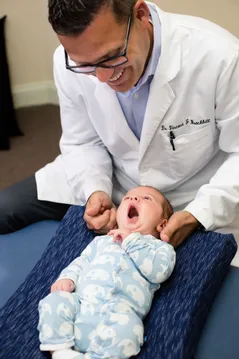 Chiropractic Medicine
Chiropractic medicine is a holistic approach to affecting ideal health conditions through the use of gentle spinal adjustments to address issues with mechanical disorders concerning the musculoskeletal system.
Why might a child need pediatric chiropractic treatments?
Children can experience subluxations in their spines through bumps, falls and other accidents. These are misalignments that can prevent efficient communication between the brain and the body and that can cause stress to the child's nervous system. Chiropractic adjustments can bring improvements to the child's quality of sleep, their behavior, and attitude and to the child's immune system function.
Are chiropractic adjustments safe for my child?
The adjustments are safe for patients of every age, including newborns. In fact, many women also like to receive prenatal chiropractic adjustments to keep their spines straight and comfortable during pregnancy.
Will spinal adjustments cause my child to experience pain?
The majority of parents convey that their children enjoy their chiropractic adjustments, that they are painless, and that their children look forward to them. Younger spines generally respond more quickly than adult spines, so your children can enjoy the benefits sooner.
Schedule an appointment
Please call (330) 649-2700 to schedule an appointment with Dr. Brechbill, at Brechbill Chiropractic. Both you and your child will be glad you did. We are conveniently located at 4336 Fulton Dr. NW in Canton, Ohio.